Commemorative Service
300 Squadron
Faldingworth - 8 September 2007
za nasza i wasza wolnosc

---
A Commemorative Service was held on Saturday 8 September 2007 at 14:00 in the village church, Faldingworth, to mark the 60th anniversary of the disbandment of 300 Squadron of the Polish Air Force, which flew Avro Lancasters from RAF/PAF Faldingworth.
The church of All Saints has memorials to all who served on 300 Squadron, including a stained glass window, plaque, and memorial gates.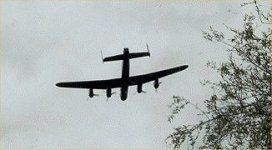 The event marked the contribution and sacrifices which Squadron and Station personnel made to keep tyranny from our shores. Although so many are not with us now, our lives in both countries would be so different had they not been with us then.
There was also an act of remembrance on the airfield at the Memorial dedicated in 2004. This included the laying of tributes and the inclusion in the Memorial of a part from another Lancaster which was lost flying from Faldingworth.
See the Faldingworth Memorials website for more details of the memorials.
for more details please contact
Colin Mitchell-Smith
telephone 01673 885384
(+44) 673 885384 from outside the UK

---
text © Colin Mitchell-Smith
Lancaster photograph © Faldingworth
300 Squadron Badge © Polish Air Force
---
this page last updated 13 March 2011
© HFM Design